SAMOS ANIMAL WELFARE - BE AN ESCORT FOR A STRAY ANIMAL.
SAMOS ANIMAL WELFARE – BE AN ESCORT FOR A STRAY ANIMAL
Samos animal welfare was founded in 2017 with sole purpose of the improvement of quality of life for the stray animals of Samos. We are a non-profit organisation supported entirely from member subscriptions and donations.
-Training students: We aim to create a feeling of empathy towards animals to the new generation.
– Record, recollect, vaccinate, digitally record and sterilise stray dogs.
– Save wounded/abandoned/abused animals with the help of our volunteers and make sure they have a decent quality of life.
– Socialize and take care of them at the shelter which is their temporary home.
– Find temporary caretakers until they are adopted.
We found that after the sterilisation process it is a vital step for a pending successful adoption.  We make sure they have adequate living conditions and they are accustomed to living with other people. Every year we have around 80 adoptions.
-By donating at several of our collection boxes located at several shops around the island.
Our bank account : GR8701104010000040100272943 BIC/SWIFT:ETHNGRAA
– Offer us food, medicine or veterinary services.
-Visit our shelter and either adopt a stray or become an escort to its new home
Notify us as soon as possible about your return date so we can order the ticket for the stray for your destination. All travel costs are covered by us.
SAMOS ANIMAL WELFARE - WIR SUCHEN FLUGPATEN!
SAMOS ANIMAL WELFARE – WIR SUCHEN FLUGPATEN!
Der Tierschutzverein Samos Animal Welfare wurde 2017 gegründet mit dem Ziel, die Lebensbedingungen der Straßenhunde auf Samos zu verbessern. Es handelt sich um einen gemeinnützigen Verein, der sich ausschließlich
über Mitgliedsbeiträge und Spenden finanziert.
---
Unsere Aktivitäten in kurzer Zusammenfassung:
– Schulprogramme, denn Kinder und Jugendliche sind die besten Botschafter in Sachen Tierschutz
– Betreuung der Straßentiere (tierärztliche Versorgung, Impfungen, Sterilisationen, Markierung, Fütterung etc.)
– Erste Hilfe für verletzte, kranke und ausgesetzte Tiere sowie Einschreiten in Fällen von Tierquälerei
– Fürsorge und Sozialisierung der Hunde im Tierheim
– Adoptionsprogramme im In- und Ausland sowie Suche nach Pflegeplätzen
Pflegeplätze sichern nicht nur die Versorgung und Unterbringung der Straßentiere, sondern sie sind auch eine wichtige Vorstufe für eine spätere Adoption, weil sie die Streuner an ein Leben bei einer Familie vorbereiten. Jährlich gelingt es
uns, ungefähr 80 Streuner zu vermitteln
---
AUCH SIE KÖNNEN UNSERE ARBEIT ENTSCHEIDEND UNTERSTÜTZEN:
– mit einer Spende in unsere Sammelbüchsen (Sie finden sie in vielen Geschäften), auf unser Vereinskonto oder per
  PAYPAL
– mit einer Sachspende (Futter, Medikamente, Tierarztleistungen)
– Shelterbesuche (schenken Sie unseren Streunern ein bisschen Zeit und Liebe)
– mit der Adoption eines Streuners (Informationen dazu über unseren Verein)
– als Flugpate können sie einem Straßenhund die Reise in ein liebevolles Heim ermöglichen
Als Flugpate begleiten Sie einen Streuner ausschließlich auf der Reise. Die Vorbereitung und sämtliche Kosten,
ja sogar die Buchung werden von unserem Verein übernommen. Informieren Sie uns lediglich möglichst früh
über Ihre (Rück)Reise, alles Weitere arrangieren wir.
Insbesondere suchen wir Flugpaten zu den Destinationen: Frankfurt, München, Düsseldorf, Hamburg und Berlin.
IBAN: GR87 0110 4010 0000 4010 0272943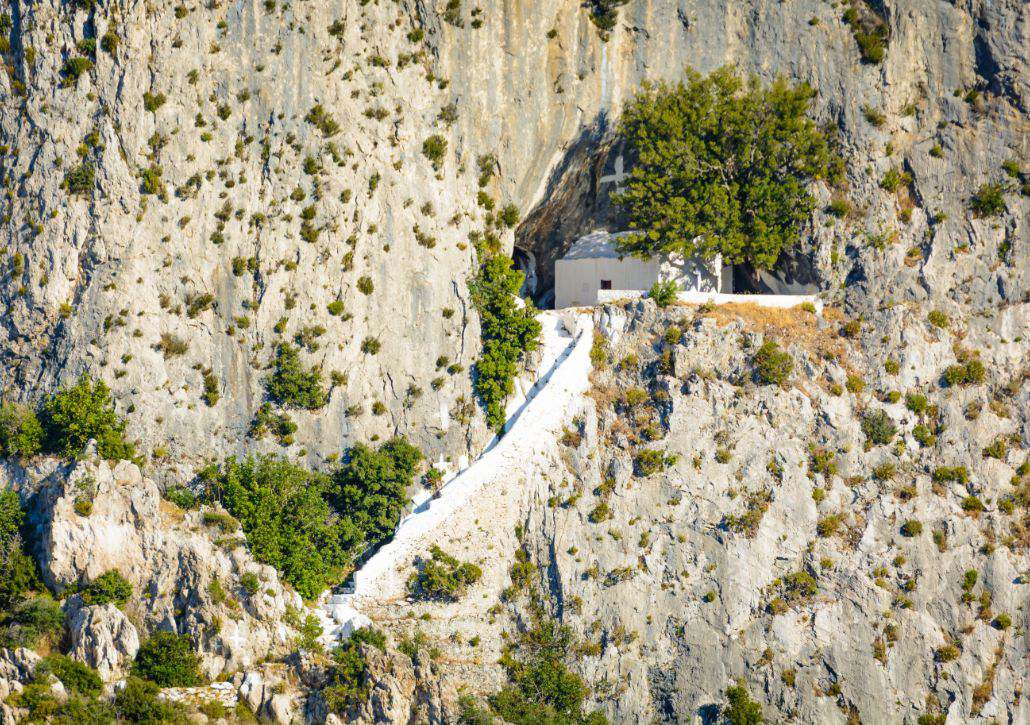 Situated some 320 m above sea level on Mt. Kerkis, around 35 km from the hotel, lies one of Greece's most famous caves